Posted by Andy "That's About $25" Bell
After four days on the ground in the UK, here are some of the top stories.
RIGOROUS – The new word for awesome … and such like.
BRITISH FOOD – Whisper it very quietly, but the era of really bad pommy tucker is over. This is based on an intensive study of various pubs and restaurants since last Thursday.
DOWNTON ABBEY – Series 3 started last night. Still think it's high class crap. Shirley MacLaine has joined the cast with mixed results. Spoiler alert – Want to know more ?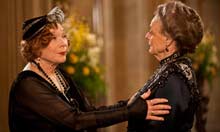 SPIEGELTENT – A larger incarnation than we've seen in Melbourne and a glorious hour or so in the company of Fascinating Aïda on London's Southbank.
SUNDAY LUNCH – Take two fabulous kitchen dudes, five sparkling guest and ample custard  and it's a lay down misere. Glorious.
BEER – Still warm.
NEWSPAPERS – Variety survives.  So far the leftish views of the Guardian & the Observer, the loony tunes of the Daily Mail, the measured Independent and the amazing survival story of the communist Morning Star. More than glorious.
DRAG – A couple of hours at the Royal Vauxhall Tavern restored my 'faith', if not my punctuation, in drag.
Edna Experience sang in her own voice and had the audience in the palm of her alarmingly clad hands. Choice.