October 26th 2012
Having cheerfully made my way through six international airports over five weeks, this is the pretty hopeless sight which greet me at the end of around 50,000 km of travel around this crazy old world.
Tullamarine, Melbourne had more chaos than London, less order than Inverness and not nearly as attractive uniforms as worn in San Francisco.
Three, possibly four, customs officials coped with four or five planeloads.
In the end we were all waved through.
Feeling a little less secure ?
She'll be right.
However, the last hour or so of travelling couldn't possible undo the previous 800 or so.
NBW.
So what, apart from a few more t-shirts, a passion for the San Francisco Giants and some 2nd hand Kenneth Cole shoes, has been gained from this project ?
Truth to tell, not that much that I didn't really know before.
The loved ones I spent time with are still loved, while the places I returned to are just a bit clearer in my memory file.
As for the new places and people – they are hanging around between my ears as well.
A palace of dreams and an angel – not a bad combo for this adventure.
My conclusions ?
Absence does make the heart grow fonder, travel very much broadens the mind and airline food is always not quite right.
These were "grandes vacances" in every way.
October 21st 2012
Some reflections to come, but first the visuals.
Not all of the 633 stills and videos taken during a five week road trip to the US & NZ will make the cut … probably !
To begin at the beginning.
Let us start with the splendid sight of Hikaru Freeman taking possession of the Full Catastrophe CD case on the eve of my departure.
This traditional ceremony dates back to mid 2012.
In Blighty, they must have known I was coming back after a decade & much more away from my native nation-state.
There was a reassuring sight at a bus stop and obvious concern about my health in the media.
In the north-east of England, my return after a while away caused media waves … possibly.
But my major footballing appointment was in Swansea where I gained an expensive replica shirt and tasted defeat.
Back in the north-east of England there were other signs of footballing life from another faraway place AKA Melbourne.
To the heady heights of California and the remarkable cable car in Palm Springs, the gayest place known to man.
After temperatures nudging 100F/38C in Palm Springs, I ventured to cooler and similarly gay climes – San Francisco. Still in love with the place … and not for all the obvious reasons.
It sings to me in so many ways – Go Giants !
And to sum up the enterprise in a visual and all-encompassing way. One lovely afternoon in a special place with a beloved friend.
October 14th 2012
These are the top stories from the Parnell (in Auckland's Inner East) News Engine Room.
*Watching baseball & college football with friends is a fine way to spend time.
*US Immigration officers are actually friendly.
*Air New Zealand rarely puts a foot wrong.
*Hot kumara chips and Guinness are a great combo.
*Walking dogs in various countries is good for the soul.
*Picking up the conversation with people you haven't seen in a while is better than a pick-up.
And coming up …
*The leg of lamb looks special.
*The Auckland rail network to get the once over.
10th October 2012
I am yet again in that city by the bay AKA rainbow central – San Francisco.
Like so much on this trip, the place has changed while not changing at all.
It's that thing called essence … or is it simply je ne sais quoi ?
Dunno really.
So within hours of arrival on dear old CalTrain, I had quaffed a meatloaf sandwich, wandered the Castro, bought a re-elect Obama button and avoided several score of pan-handlers.
With a make or break post season baseball game involving the local Giants on the TV this afternoon, I made haste to my pensione with the merest pit-stop at the local store for necessary supplies.
And what digs they are.
The gloriously named Nob Hill Hotel stands just inside wheeze territory when it comes to climbing the hills from the centre of the city.
It has old world charm. but modern technology challenges.
I went into a level of hyper-ventilation not induced by eight uphill blocks of Hyde Street when the card-key system took three lift journeys and two confused maids to finally spring into action.
But if that is the worst that happens in the next few days, then I am truly blessed.
While some visitors may linger around the bay or inside a Westfield operated shopping centre to value add to their stay, my mission is a simple a transport of delight.
The vintage variety.
They operate up and down Market Street, the spine of the city.
And they represent the glories of this mode of public transport when it was in its pomp in the 1940s & 50s.
And they come from all over the USA and the world … including our own fair Melbourne.
The F-line" runs to the hub of gay SFO, the Castro, and is a gloriously simple idea that gives this place even more class.
Functioning and historic – a brilliant combo.
I won't dwell totally in the transit past.
I will try the "K" and the "M" and the "T" lines, but it is to the "F" that I will return most often.
It is the "F" to Castro that will sate my desires … one way or another.
Now, let's have a look at a make or break game for the SF Giants versus the Cincinnati Reds.
1st October 2012
The North East of England is a very special place.
It retains its own way of doing things, much like Wales.
But whereas Cymru uses two languages to delight the visiting eye on its signage, on the banks of the rivers Tyne & Wear they do visuals in another way.
Well, that's what this corerespondent found.
Perhaps these pictures say more about the snapper than the snapped …
29th Septemberb 2012
After Scotland, of which more in the near future, it was time to head south to another one of my old stomping grounds.
For eighteen months I lived on Wearside, that is the area around Sunderland in the North East of England.
That was a time long, long ago.
Anyhoo, the town is a cheese and onion toastie's throw away from Newcastle.
And all around are former mining & industrial communities which have their very own way of doing things.
They are close-knit and proud.
This is the land of the Geordie and I, to my mother's chagrin spoke like a native thanks to the fellow travellers on the "Scholars Bus" to Silksworth County Infants School. (http://en.wikipedia.org/wiki/Geordie)
I had my linguistic chops re-educated under the tutelage on my mother.
There is much about this part of world that is to relish … another blog on that soon.
As for the 29th of September, it, needless to say it, was a thrill to share the air with Hikaru and Michael @ TFC Central… we usually sit around a dining table.
And after that it was off for my spot of footy.
Not quite the Grand Final, it's the clash of the day between the Bedlington Terriers (http://www.bedlingtonterriersfc.com/) and Team Northumbria.
As luck (or fate) would have it, the cheer for Bedlington is "Woof, woof".
Loving them Terriers already … & they won 5-1 !
As for the Grand Finals … up is down, marshmallows are frying pans and that is exactly how I like it.
24ain Medi/An t-Sultain/September
Last full day in Cardiff.
Time to stock up on the good stuff.
Some recent Welsh language fiction, some CDs ('Billy The Seal' will be played on October 18th) and local cuisine.
Therefore, it was a day of two culinary halves.
Lunch was at Cardiff Market.
It has been a while since I had partaken in this delicacy.  My taste buds went into overdrive.
This is "poor man's goose" with local vegetables and fried potato wedges AKA faggots, peas & chips + bara menyn/bread&butter.
The gravy was hefty, the meat dish superb and the chips beyond compare…some of the peas were even green !
After that joyous repast and a saunter around the city centre it was time to exchange the kitchen for the front parlour.
Pettigrews Tea Rooms sits in a gatehouse in Bute Park just up from the castle and is the realisation of a dream held by one man to bake cakes & serve good old afternoon tea.
He done good.
Or to put it another way.
23ain Medi/September

I am a graduate of the University of Wales, University College Swansea & also worked in and around the area.
The second city of Wales is a place dear to my heart and I returned there for some disappointing football (association) and scrumptious & unchanged ice cream.
Its most famous native, Dylan Thomas, had a more fraught relationship with the place than I.
He called it an "ugly, lovely town", but on a sparkling early autumn day it is pretty special & far from ugly.
Returning somewhere important in your life can be fraught, if you allow it to be.
The changes often disappoint, the things that have stayed the same can get you pining.
I think the trick is to have your heart open & your brain semi unplugged !
(Some might argue, that is my usual modus operandi)
So while Swansea City lost 3-0 to Everton I was not down in the dumps in my £35 seat.
I was glad to be there.
The Swans play at a spanking new stadium, some might say a stonking new ground.
Anyhow, it was my first time there.
I spent my time as football supporter and (strange, but true) reporter/commentator at the club's old ground – the Vetch Field.
The little shed thing on the roof of the grandstand was where I used to sit when reporting for Swansea Sound.
I ventured to the old soccer stomping ground and there wasn't much left of a place where games were won and lost while many meat pies were quaffed and scarfed.
It wasn't sad to recollect, it was a little gratifying to tell the truth.
And to complete the gratification there needed to be one more stop before hitting the M4 to return to Cardiff.
Some of Swansea's built environment around Joe's had changed, but the 99 cornet still passed muster.
(Across from the shop is the place where I saw "Picnic At Hanging Rock" in a converted chapel)
Indeed, while the green, green grass may have moved,  the most wonderful vanilla ice cream taste of all my days had stayed put.
###
21ain Medi/September
I have reached Wales.
And it is great.
Rhagorol/Rigorous !!
It's a week since your non-jet affected hero lumbered off NZ002 at Heathrow.
And it's about time you got to see some of the things I've seen.
Let us begin not at the beginning with a bus livery that makes a bit of a statrement to us public transport gay geeks.
Now to a Cardiff culinary delight.
The Louis is a gold-plated throwback to the sixties in decor and menu.
There's bread and butter, pots of tea and, of course, the unfinishable mixed grill. And yes, that is a chip butty in my hand.
In Wales, some people are a little befuddled by signs.
Now to the proud mum, Sian, of an Olympic flame runner.
Ffagl is the Welsh for the instrument !
It's not all food and global events on this trip.
There's culture.
Specialised culture.
And there's flora.
And, of course, these islands are teeming with history of all sorts.
###
18th September
After four days on the ground in the UK, here are some of the top stories.
RIGOROUS – The new word for awesome … and such like.
BRITISH FOOD – Whisper it very quietly, but the era of really bad pommy tucker is over. This is based on an intensive study of various pubs and restaurants since last Thursday.
DOWNTON ABBEY – Series 3 started last night. Still think it's high class crap. Shirley MacLaine has joined the cast with mixed results. Spoiler alert – Want to know more ?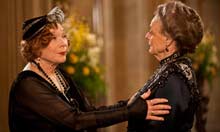 SPIEGELTENT – A larger incarnation than we've seen in Melbourne and a glorious hour or so in the company of Fascinating Aïda on London's Southbank.
SUNDAY LUNCH – Take two fabulous kitchen dudes, five sparkling guest and ample custard  and it's a lay down misere. Glorious.
BEER – Still warm.
NEWSPAPERS – Variety survives.  So far the leftish views of the Guardian & the Observer, the loony tunes of the Daily Mail, the measured Independent and the amazing survival story of the communist Morning Star. More than glorious.
DRAG – A couple of hours at the Royal Vauxhall Tavern restored my 'faith', if not my punctuation, in drag.
Edna Experience sang in her own voice and had the audience in the palm of her alarmingly clad hands. Choice.
###
14th September
On paper it was a crazy route, but my body has voted it a bit of a hit.
To explain.
The trek north has been done the long way – Melbourne, Auckland, Los Angeles &, eventually, London.
I should beknackered and more, but I am surprisingly perky.
Is going backwards the way for me ?
No need for an answer, thank you.
One thing struck me from 59J on the Air NZ 777.
The ceremonial of airline food.
From the back row of the plane I was able to take a good long look at the processional approach of all things edible.
As the song says, from a distance.
The anxiety noted by your correspondent as he loitered in the departure lounges of Tullamarine was replaced by a slow-burning anticipation of some culinary highlight.
Don't get it at all.
There is absolutely no reason for any anti-ci-pa-tion.
You know what you are getting – give or take previous customer selection – and you know it won't quite appear as you expect it too.
Meat will be in odd shapes, sauce will come in weird hues and as for vegetables… goodness only know.
And desserts are always yellow, a pasty variation of that colour, with a blob of something that looks like cream but tastes like nothing whatsoever.
Yet that expectancy of the meal's arrival builds and builds.
As the cart rumbles closer there is a frenzy of seat-belt fiddling and overhead locker opening & shutting.
And then thud.
Le dejeuner est arrivee.
The foil  is peeled back, the plastic lid removed & the cheese cellophane wrangled.
The build-up just doesn't justify what is placed before you.
It's food, but only just.
But every time, we wait with excitement mounting and more.
Is it our confinement that makes us so ?
Or is it simply another way of passing the time ?
Whatever it is … it is.
#####
12th September
Is there any travel experience worse than the check-in ?
First, you have all the gnawing anxiety of your soon to be fellow travellers.
Passports, tickets and other paperwork are fumbled with and perused to within an inch of their lives.
Associated kiddies are comforted and/or slapped. And that's just you.  Their parents are arguing or posting a status update.
Meanwhile, and within unavoidable earshot, the more senior passengers on your flight wonder out loud endlessly about on-board catering and toilet facilities.
Then  there's the hopelessly overloaded types with exploding suitcases and a set of take-on luggage which would keep a small insurgent group stocked up for a week-long coup in any developing country.
Am I the only sane one who'll be on this plane ?
You then spend 4 minutes trying to find your passport.
When you finally break free of all of the above there's the challenge of dealing with the airline staff.
Am I unlucky or does everybody get the customer service interface officers to whom a PC is as alien as a 17th century viola ?
They stare bleakly into the screen, shake their heads and thump away at the keys.
After several tut-tuts and a  muttered "this system's rubbish" they make eye contact again and smile.
"Have a great flight."
You saunter away, convinced that your cases are hurtling to Mombassa or Albury.
With that particular horror dealt with, all that's left is the humiliation of a hole in the sock at security, the outrage of a $7 cup of coffee and the chance to write some ranty stuff at an internet cafe.
Then it's off to 29J, a quick scan on the inflight mag and the sudden, fevered thought that you might not have turned the hot water system off.
Ah, travel.
####
4th September 2012.
The adventure begins a week before take-off.
"Our battered suitcases were piled on the sidewalk again; we had longer ways to go. But no matter, the road is life." – Jack Kerouac.
A big trip beckons.
Big in terms of length & destinations.
I am off overseas for five weeks to the UK (birthplace), US (place of much inspiration & passion) and NZ (a place of calm … & Perky Nanas).
I'll be reporting back on what I find as I wander the British Isles for the first time in the better part of two decades.
There are family members to sit down with, old friends to break bread with and some new places & people to see.
The familiar and the new are hopefully lining up.
As for the US and NZ – it's a bit of the same without the baggage of the first 29 years of my life !!
As is my wont, my travel arrangements are ordered to within an inch of their lives & there is a week before my departure.
Some may tut-tut, but I reckon that if you get the nuts & bolts sorted out you have more room for manoeuvre, not to mention meander.
The meandering will be there from the get-go.
You may noy be surprised that my flight to London is across the Pacific & Atlantic.
There is a method in that madness.
Honest.
It's a long time to be in limbo and that's a place where you can audit what's going on in & around your life.
Travelling takes to new places, not least those where you can view your usual place from a different & revealing angle.
I fancy this is a bit of a "moment".
I'll talk a bit more about this on Saturday night when I host "The Full Catastrophe" on Joy 94.9 from 2100 AEST.
Mind you, I will be fresh from the NRL Qualifying Final and a lot of the show could flow from the 80 minute journey just completed by my South Sydney Rabbitohs against the Melbourne Storm.
Five weeks versus less than an hour and a half.
Time to really hit the road.
########